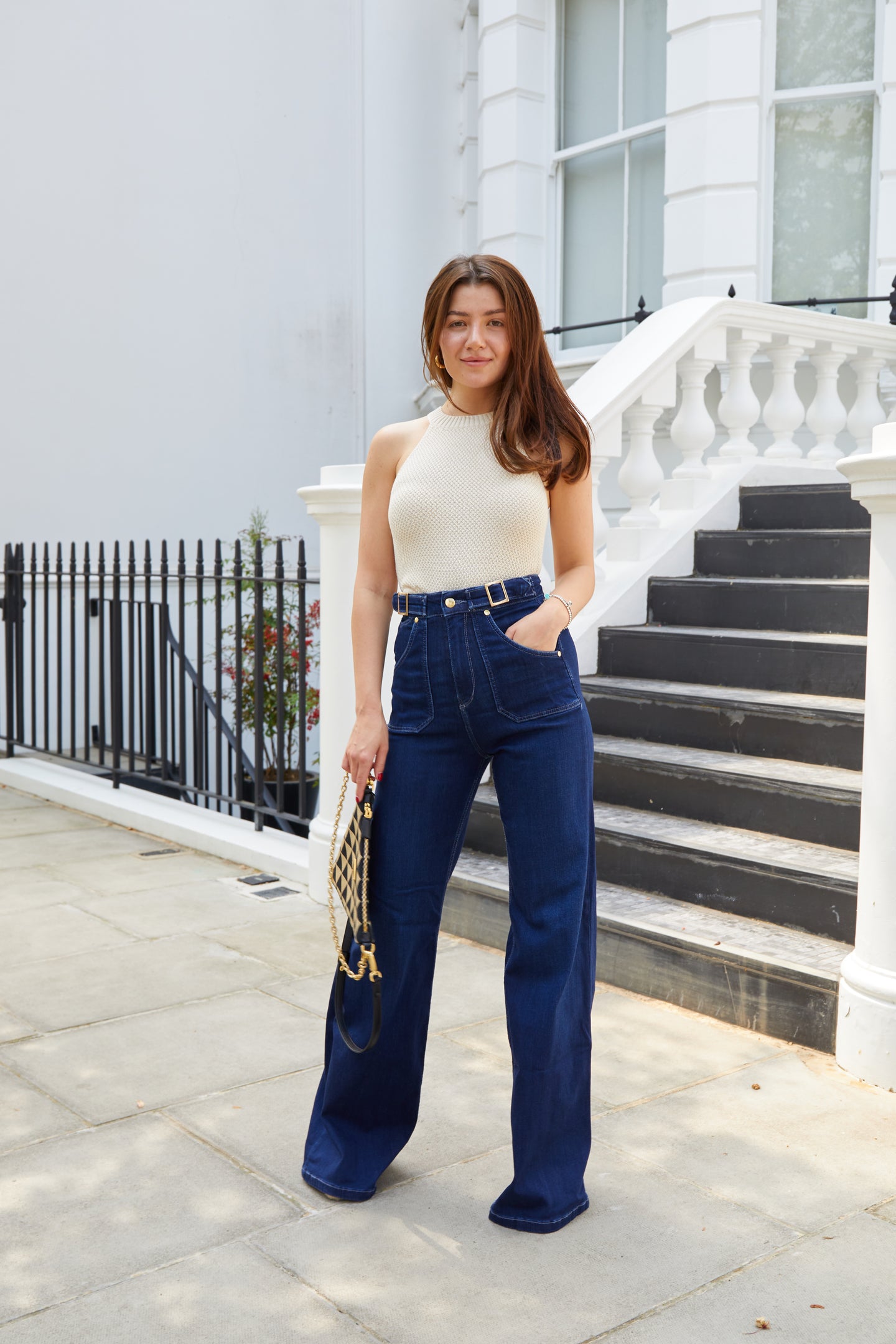 Minnie The High Top Full Length Wide Leg Flared Jeans | Working Girl [Dark Wash]
Regular price £215 Sale
Our best-selling Minnie Flare jean returns this year in a new dark blue shade called Working Girl. A full-length flare with a statement wide leg, Minnie is a modern wardrobe staple and this striking denim wash has been designed to take you from the office to cocktails after work. 
The Minnie Flare has a 13.4 inch high rise with gold fasteners at the waist and a beautiful flared leg. Working Girl is a deep indigo shade, with a contrasting stitch for a timeless and elegant look. Team with heels for a stunning silhouette, and swap with trainers for that chic, 'running around town' style.
Pre orders available estimated delivery September 2023.
London Concierge Service
Try without the hassle of returns
find out more
Speak to a stylist
We can help with your choices
Call now
Jean Size Conversion Chart
All jeans sizes are listed as the designer's size scheme and are derived from waist measurements. To get your correct size you should measure the smallest part of your waist - the measurement in inches should be your true jeans size. This however can occassionally vary from brand to brand and style to style
| | | | | | | | | | | | | |
| --- | --- | --- | --- | --- | --- | --- | --- | --- | --- | --- | --- | --- |
| JEANS SIZE | 23 | 24 | 25 | 26 | 27 | 28 | 29 | 30 | 31 | 32 | 33 | 34 |
| UK SIZE | | 6 | 7 | 8 | 9 | 10 | 11 | 12 | 13 | 14 | 15 | 16 |
| USA | 0 | 2 | | 4 | | 6 | | 8 | | 10 | | 12 |
| ITALY | | 38 | | 40 | | 42 | | 44 | | 46 | | 48 |
| FRANCE | | 34 | | 36 | | 38 | | 40 | | 42 | | 44 |
| JAPAN | | 5 | | 7 | | 9 | | 11 | | 13 | | 15 |
| DENMARK | | 32 | | 34 | | 36 | | 38 | | 40 | | 42 |
| AUSTRALIA/NZ | | 6 | 7 | 8 | 9 | 10 | 11 | 12 | 13 | 14 | 15 | 16 |
Clothing Size Conversion Chart
All sizes listed are converted from the designer's size scheme to standard UK sizes, the chart below will help you convert which size is your usual size:
| | | | | | | |
| --- | --- | --- | --- | --- | --- | --- |
| | XXS | XS | S | M | L | XL |
| UK | 6 | 8 | 10 | 12 | 14 | 16 |
| ITALY | 38 | 40 | 42 | 44 | 46 | 48 |
| US | 2 | 4 | 6 | 8 | 10 | 12 |
| FRANCE | 32 | 34 | 36 | 38 | 40 | 42 |
| FRANCE 2 | | 0 | 1 | 2 | 3 | 4 |
| JAPAN | 5 | 7 | 9 | 11 | 13 | 15 |
| DENMARK | 32 | 34 | 36 | 38 | 40 | 42 |
| AUSTRALIA | 6 | 8 | 10 | 12 | 14 | 16 |